The Girl Groups Fan Club
Diane Renay Photo Gallery
---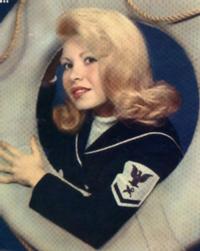 The Girl Groups Fan Club
P.O. Box 69A04, Dept. Net
West Hollywood, CA 90069

Email: gayboylac@yahoo.com

Click here to join:
The Girl Groups Fan Club Membership Application



Buy CDs by Diane Renay at: CD Now


Buy

"Diane Renay Sings Some Things Old & Some Things New" her new double CD at: Diane Renay's Official Website


Listen to sound clips here too!

Diane Renay

by Bruce Eder, All Music Guide
Diane Renay is usually identified as a one-hit wonder, but that's not quite true (she did have a second hit.) It implies a somewhat more ephemeral talent and output than was the case. Additionally, for a time in 1964, she was the major distaff voice for the songwriting and production work of Bob Crewe, one of those often overlooked 1960's producers who not only had a golden touch in the studio, but also helped define the era in a serious way.
Diane Renay was born Renee Diane Kushner, and was a graduate of Northeast High in Philadelphia. She met Bob Crewe during the early 1960's, just as he was branching out to a major national scale career as a producer-writer. Crewe (and his partner Frank Slay) had previously helped put Philadelphia's budding pop music business on the map by writing and producing the hit "Silhouettes" by the Rays, which put Cameo Records on the map, later made Freddie Cannon into a star for Swan Records, as well as taking a group called the "Four Lovers" to the top of the charts around the world as the "Four Seasons." Kushner had a voice that was not only pleasing, but also managed to be sexy and impish. She was like a healthy American teenage girl, who could play both sexy and impish at the same time.
A late 1963 session yielded a handful of songs including "Navy Blue", written by Crewe and singer Eddie Rambeau ("Concrete and Clay" with Bud Rehak.) Signed to 20th Century-Fox Records as Diane Renay, her debut single was issued in early 1964 and managed to place at No. 6 in the late winter of 1964, a time when the Beatles were chewing up practically the entire top 10. Renay followed this song up in the spring with the equally attractive "Kiss Me, Sailor," by Rambeau and Rehak. It was a song which seemed to recall both "Popsicles and Icicles" by the Murmaids and "It's My Party" by Leslie Gore in some very attractive ways. "Kiss Me, Sailor" made the top 30.
With two hits behind her, Renay recorded a full album under Crewe's guidance with Sid Bass and Charlie Calello, who masterminded the Four Seasons' music as well, calling the shots on the arrangements. Renay never had another hit, despite some quality efforts such as "Growin' Up Too Fast" and "It's In Your Tears", but the Navy Blue album rode the charts for three months.
She later moved to MGM Records, and then to Atco and NewVoice (owned by Crewe), with a similar lack of success, although she did leave behind a girl-punk classic at MGM in the guise of "Watch Out, Sally", on which she affected a much louder, almost punkish delivery. Backed by a fuzz-tone guitar and driven by a Bo Diddley beat, it might have opened up a whole new career for Renay, if it had come out a few years later. As it was, the song was ignored, though one can easily visualize the Pleasure Seekers wearing out copies while learning the song. One can imagine Nancy Sinatra listening to it before recording "These Boots Were Made For Walkin'." Renay ceased recording after 1965, and hasn't been heard from since.
Although Renay wasn't as imposing a talent as either Lesley Gore or Peggy March, both of whom she resembled vocally, she was sometimes derided for coming at the end of the girl group cycle, and being under the control of producer Crewe. She had an attractive voice and manner, and one of her singles, "Growin' Up Too Fast," has lent its name to a fine girl group collection on CD.
Return to:



The Girl Groups Fan Club


Visit My Music Photo Galleries for:
The Angels
The Blossoms
Patty Duke
The Exciters
Shelley Fabares
Connie Francis
Annette Funicello
Girl Groups
Lesley Gore
Ellie Greenwich
Brenda Holloway
The Honey Cone
Gloria Jones
Latin Singers
Little Peggy March
The Marvelettes
Hailey Mills
The Orlons
The Pixies 3
Martha Reeves &amp the Vandellas
Diane Renay
The Ronettes
Diana Ross &amp the Supremes
The Shangri-Las
Dee Dee Sharp
The Shirelles
Dusty Springfield
Connie Stevens
Tammi Terrell
The Three Degrees
The Velvelettes
Mary Wells
Kim Weston
Timi Yuro


A must for every !
Off the Record : Motown by Master Number, 1959-1989: Singles Volume 1
(Rock and Roll Reference Series, No. 34)
Find out about and get your copy of Off the Record here!


Buy books, music, videos &amp more from the internet's #1 store!

Diane Renay Photo Gallery URL:

http://surf.to/dianerenay


Visitors since May 12, 2000: